Cheddar Polenta with Sun-dried Tomatoes & Shrimp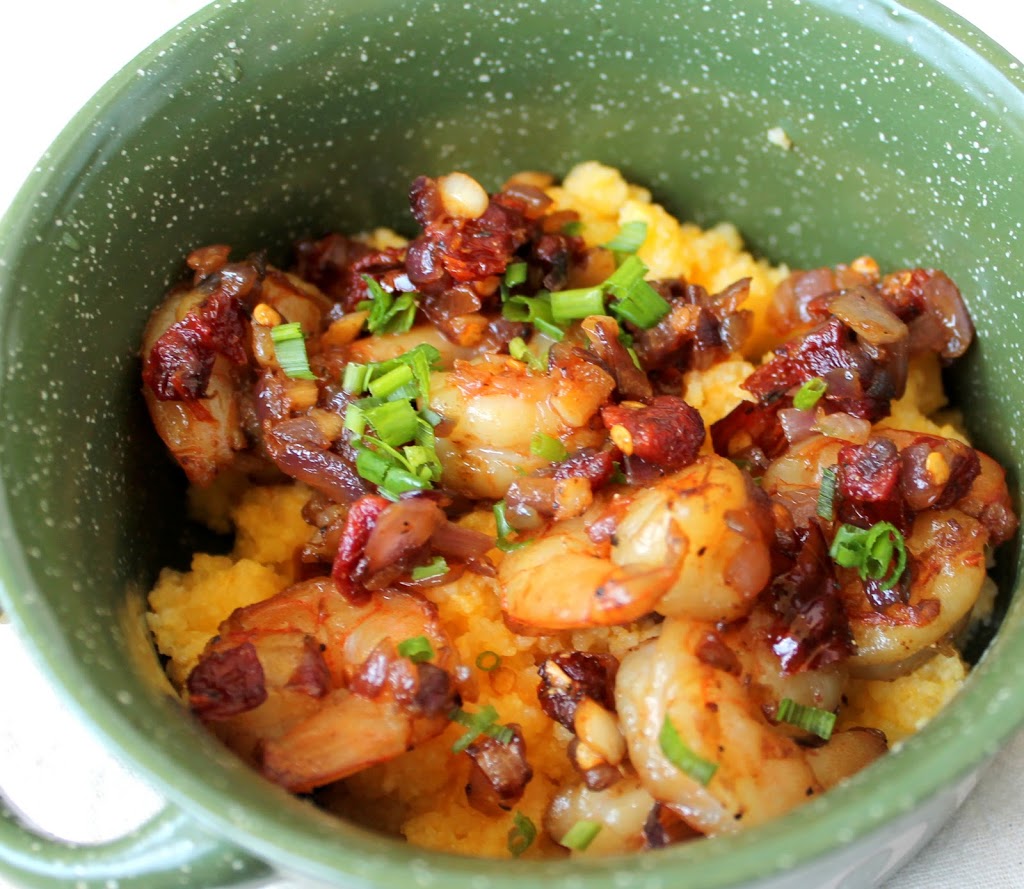 This is a gourmet meal on a weeknight kind of situation which involves quick chopping and throwing of ingredients into a skillet then plating it on a bed of polenta.
Polenta is an Italian style grits made from corn and has a bright yellow color. You can purchase polenta precooked or click here for details on making it from scratch. Generally, 1 cup polenta : 4 cups water is the desired ratio for cooking.
This comforting bowl has creamy cheddar polenta on the bottom ( I used precooked polenta tube) which is then layered with sun-dried tomatoes & shrimp. Its simple yet has bold flavors from the sun-dried tomatoes while the lemon juice brings everything together.
If you are a vegetarian, skip the shrimp and enjoy the cheesy polenta with sun-dried tomatoes or by itself with a dash or salt and pepper.
Cheddar Polenta with Sun-dried Tomatoes & Shrimp
serves: 2

Ingredients
about 1/3 - 18 oz precooked polenta tube ( I used this)
1/2 cup cheddar cheese
1/4 cup red onions, finely chopped
12-14 large shrimp, shelled
8 sun-dried tomatoes, roughly chopped
1 tablespoon olive oil
2 teaspoon garlic powder
chives, finely chopped (for garnish)
1 lemon juice, freshly squeezed
salt and pepper, to taste

Directions
- Cook polenta according to the package directions and towards the end add cheddar cheese. Reduce heat and allow cheese to melt slowly then combine them together.
- In a skillet heat oil over medium heat, sautee onion until translucent then add sun-dried tomatoes allowing it to soften for 2-3 minutes.
- Add shrimps to the skillet, cook until it is no longer pink.
- Season it generously with salt, pepper, garlic powder and stir everything together.
- Remove from heat.
- In a plate, put polenta then top it with sun-dried tomatoes & shrimp. Drizzle lemon juice.
- Garnish with chives and serve it warm.

Bon Appetit.

-Do you have gourmet meal in a minute recipe? Please share the link on the comment section.